magsbeadscreation -
Handcrafted Artisan Wire Jewelry with Gemstones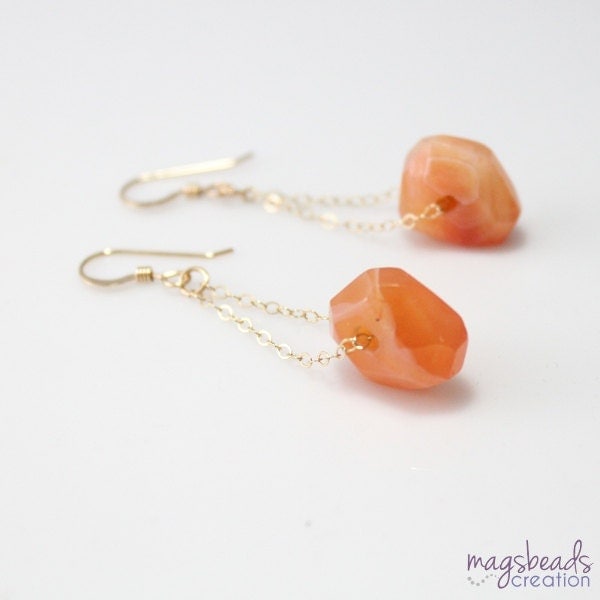 This JET member makes wire and chain jewelry that features gemstones, crystal and pearls.
Melani
seems to favor irregularly shaped stone like chips and rough cuts, giving her creations a more organic feel.
The earrings pictured on the
left side
are a good example of her style. These pretty earrings feature gold filled chain and ear wires. The gold tone goes very well with these rough cut orange beads!
If you like clean and simple designs that are something you'll wear often, these could be your go-to pair of
earrings
. They're pretty, not too big and good for casual / business.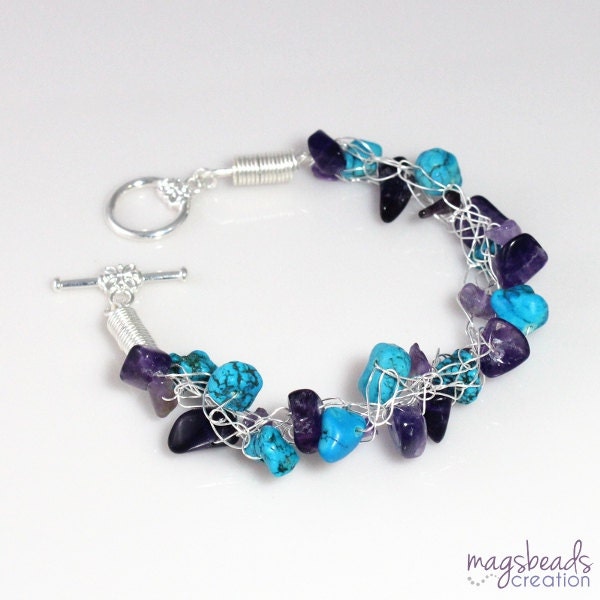 Here's an example of
bead and wire crochet
by
this artisan
. This bracelet is beautiful! The irregular shapes of the stones really add an interesting aspect to this one of a kind piece.
The blue turquoise has great spidery matrix running through it. These chips are a gorgeous blue color!
Melani combined the blue turquoise nuggets with fabulous purple / violet amethyst. These two colors seem to work very well together.
The wire this jewelry maker used to create this
handcrafted gemstone crochet
bracelet and the findings - the toggle - are silver plated. This helps to keep costs reasonable.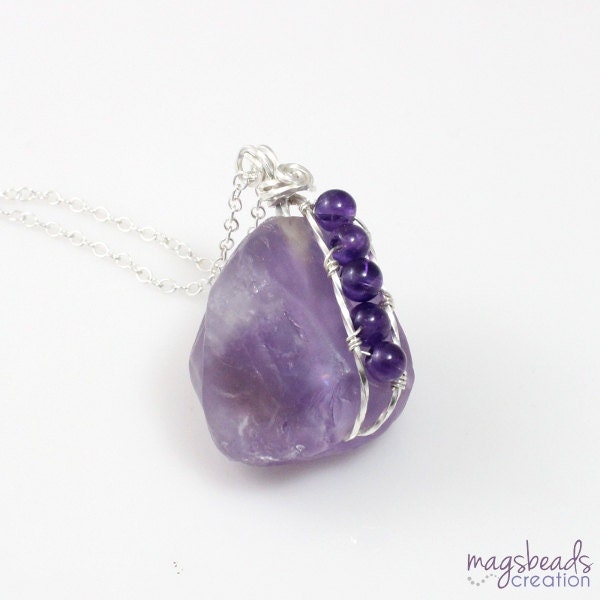 On the right is a very
unusual
handmade amethyst pendant by this jewelry artist.
Even though the purple color is close, I see the contrast in this design right away.
In this pendant the contrast isn't just the bright polished sterling silver wire against the violet color of the stone. The perfectly round amethyst beads are so different from the rough stone they're wrapped to, it really is almost like night and day!
This is one of Melani's higher end creations. You can see the amethyst beads are nice quality and she used sterling to make it.
Most of the jewelry here is similar to the pieces I spotlighted above. Many of Melani's creations are wire crochet bracelets, with
tourmaline
,
aquamarine
and
pearls
.
So take a look at this shop today ... there's really nice jewelry in
magsbeadscreation
!