Hi! I'm Kerry, and my Etsy shop is named
WanderingJeweler
. My specialty is bicycle chain jewelry - but of course I make other things too!
I've been a creative person for a while now. Do you remember gimp plastic lacing?
I must have made about a hundred of gimp plastic bracelets in a rainbow of colours and some that glowed in the dark.
I tried creating many different things from candles to T-Shirt designs and I found that making jewelry really got my creative juices flowing.
I'm mostly self-taught and I've taken several weekend workshops: in soldering, foldforming, sawing, resin, etching, riveting, etc.
I was working on my bike one day and I decided to replace the chain. When I removed the chain I thought I could make a piece of jewelry from it that I could wear everyday!
I sold my first piece of handmade jewelry at a Farmers' Market in Fernie, British Columbia, Canada.
I live in Campbell River, Vancouver Island, British Columbia, Canada with my husband and our energetic dog Kodi. I love to search for sea glass on the weekends with Kodi.
I really enjoy making pendants. More than any other type of jewellery. But I do make
earrings
,
necklaces
,
bracelets
, and
resin pendants
.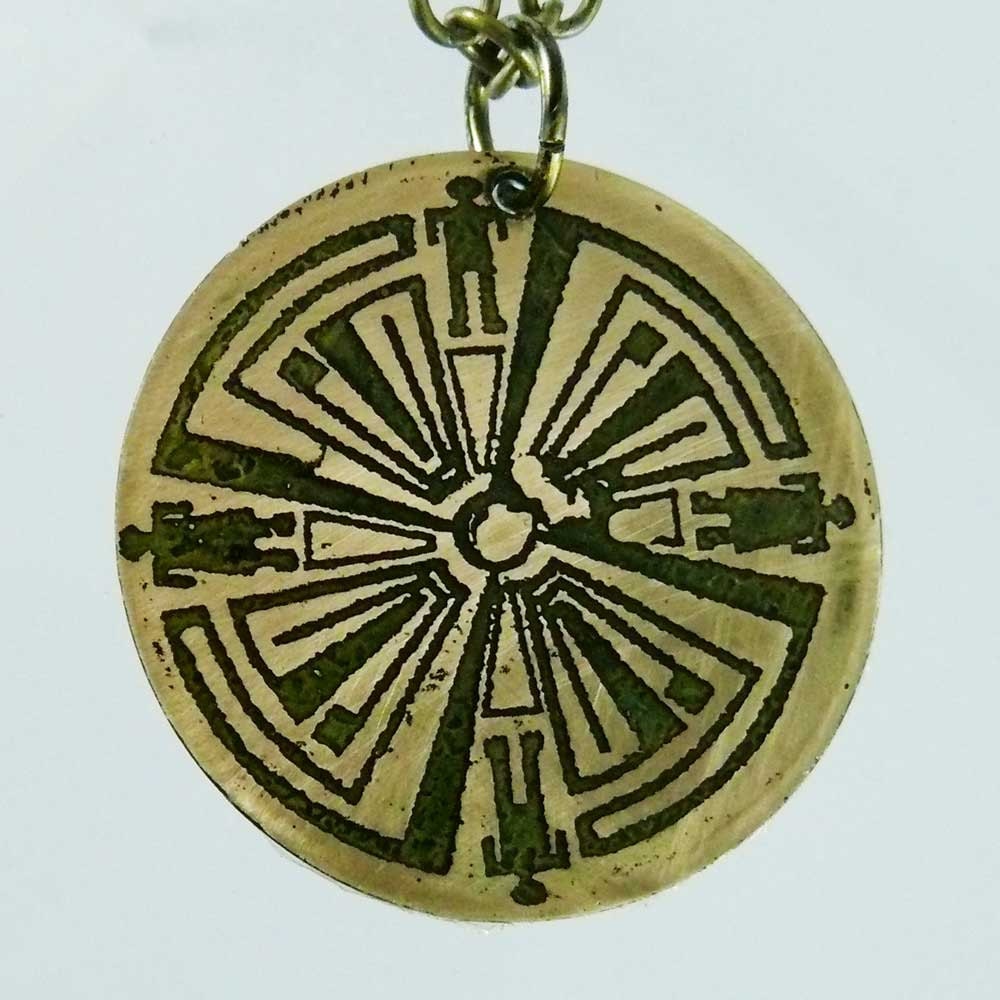 Of course the largest section in my shop is devoted to my bike or
Bicycle Chain Jewelry
! But lately I've been exploring other jewelry making methods and techniques, and one in particular appeals to me.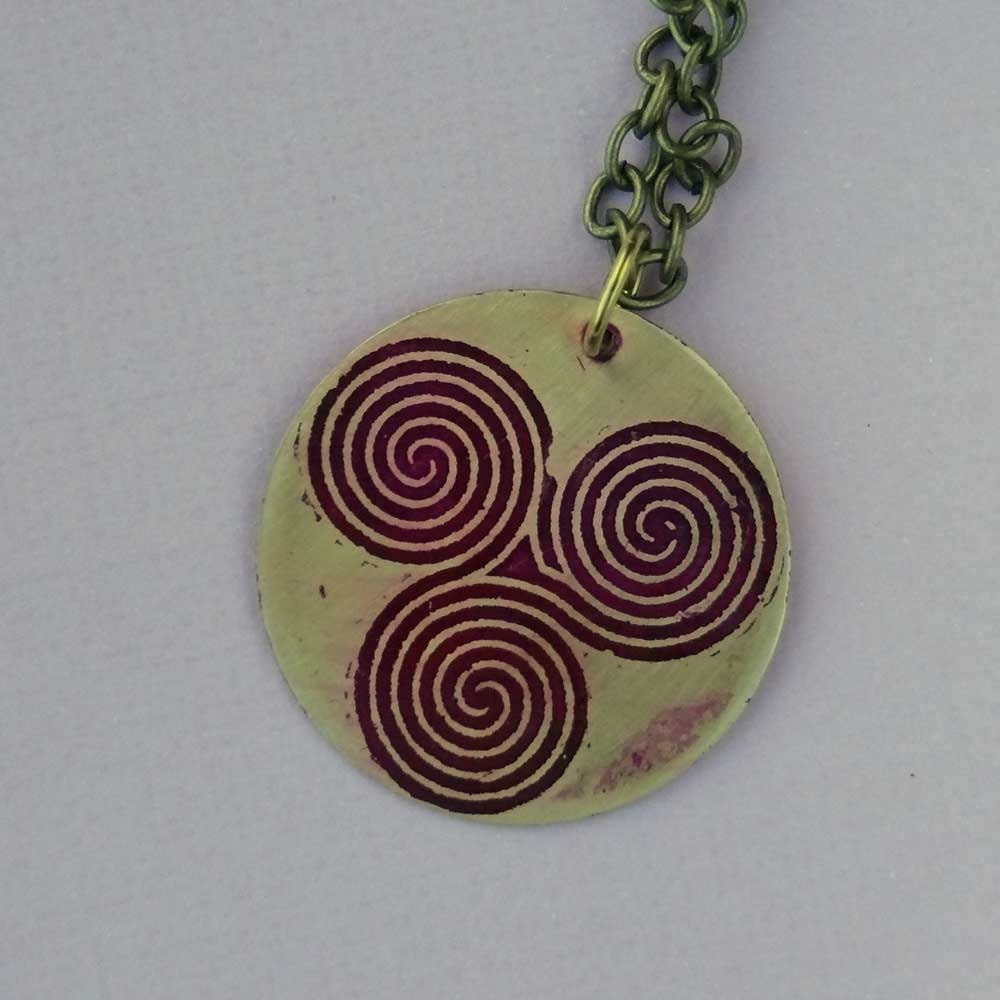 I recently began making etched brass and copper jewelry like my
Haven Guard brass circle pendant (above) and my
Hot Pink Etched Spiral Brass Circle Pendant (on the left).
Etching metal using electricity is a lot of fun and I think it taps into the scientist part of my personality!
I want to improve my skills in soldering and stone setting. Learning these techniques would allow me to expand my line.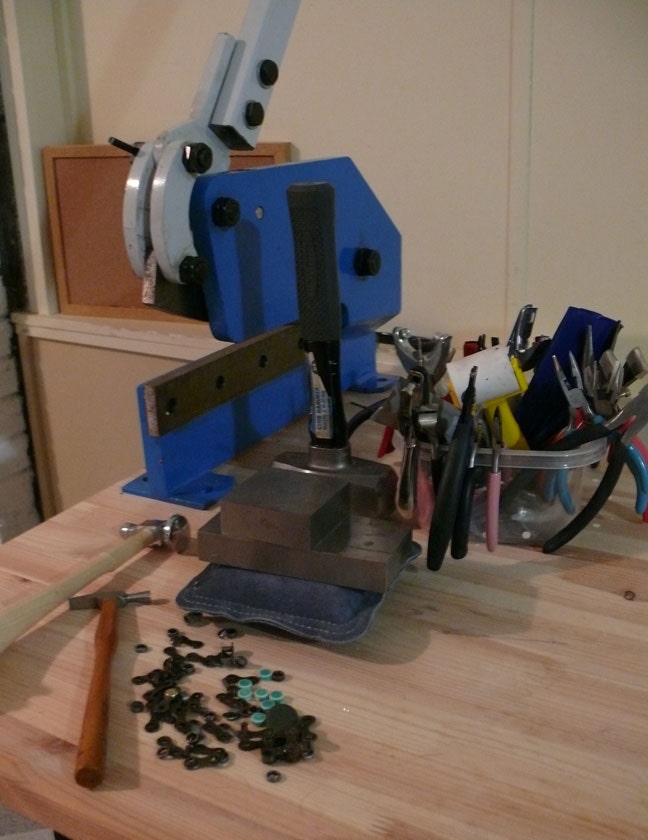 When I'm designing a new piece I like to just dump items out on my desk and I shift them around and combine them until I see a combination I love.
One of my favorite places is my workshop. I love getting a new tool and learning how to use it. But I love all my tools, and the basic tools are the ones I could never do without.
My favourite tool is my 3 lb sledge hammer, I love the sound it makes when it strikes the metal.
My other favourite tool is my riveting hammer, it's tiny and can get into small spaces.
The hammers are favorites but you can see ALL of my tools are important to me. Just look at my collection of pliers!
You can find my jewelry in my Etsy shop, here:
www.etsy.com/shop/WanderingJeweler
And also on my website, here:
www.wanderingjeweler.ca
I'm active on these Social Networks:
Facebook
www.facebook.com/WanderingJeweler
Twitter
www.twitter.com/WanderingJewel
RSS feed -
www.etsy.com/shop/WanderingJeweler/rss
Google plus
plus.google.com/108061457366971030526/posts
RebelMouse
www.rebelmouse.com/wanderingjewel/
Bike riding is great exercise and it really is fun!
My husband and I have toured parts of Canada, the United States and Europe on our bicycles.
We have cycled over 10,000 km in 2 years.
Many of my pieces are inspired by my travels by bicycle!
I get the recycled bicycle chains I use to make my jewelry from my bikes and also from my friend's bikes.
I hope you visit me on Etsy! I think you'll love what you find. I make unique jewelry you won't see everywhere.
In my shop you'll find many examples of cycling inspired jewelry as well as beautiful jewellery items made with glass, metal, shells and resin.
I love experimenting with lots of different materials and techniques so my shop is continually changing and evolving.
There is always something new to see at WanderingJeweler!
Our bikes need a rest too!
Poor things are loaded down like pack mules!
There is a lot to see in my Etsy shop, and just so much space here. So please visit!
Here's a look at some of the jewelry you'll find: