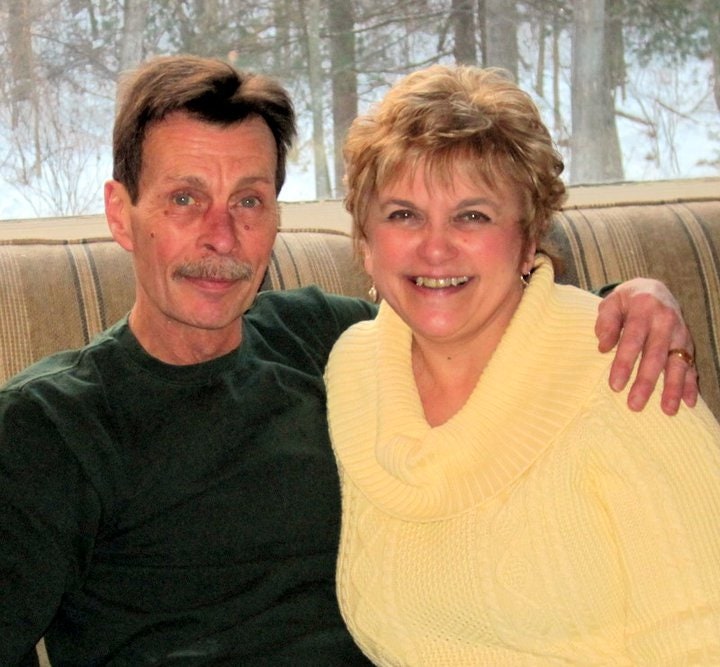 Bill and Judy!
When Bill and I first met, I discovered his love for hiking and the Adirondack Mountains.
We actually found some garnet in the creek one day. I figured if I was going to have to continue to like hiking in order to keep this relationship going, I may as well find something to look forward to.
I started thinking about ways to use the garnet in jewelry.
I always loved to buy pretty things and hoped others would like what I created.

The rest is history.
I am self taught. I have purchased magazines, books, online courses, etc. to try to come up with new ways of doing things.
I would love to find more time to actually learn soldering and metalwork.
I love to discover unique and colorful semi precious stones to create with. I also use sterling silver in most of the pieces although I have also created a "costume jewelry" section in the shop for less expensive pieces.
I started to make jewelry in 2004 and sold the first pieces at home with a few people from work, etc.
I then ventured to craft fairs and in 2006 a lovely vendor let me in on ETSY. This is when I opened the shop.
I basically purchase the beads I see and like and then lay them all out on the work area. I design as I go along.
All of my tools are useful!
However, I am partial to the large magnifier light that I hang around my neck so I can see the finer things as I create. It's not actually a tool per se, but it is a huge help.
I learned stamping on metal and made some personalized pieces as gifts. I also learned how to rivet and made some brass and copper bangle bracelets. I hope to be able to do more of that and learn to solder as well.
You can find out more about JemsbyJBandCompany at the sites above!
Thanks for visiting the JET blog to read about our member artisans. Please come back soon to find out more about the JETs and our talented members ... we'll be publishing a new Artisan Profile soon!