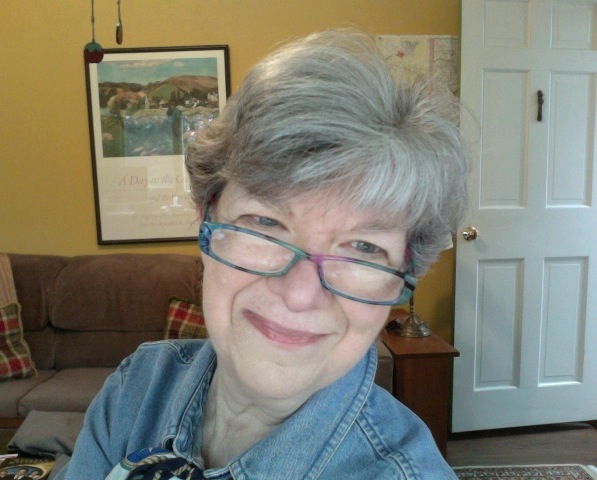 Hello! I'm Mollie Ann Meserve. My husband Joe and I make the handcrafted copper creations you'll see in our RoughMagicCreations and RoughMagicHolidays shops on Etsy.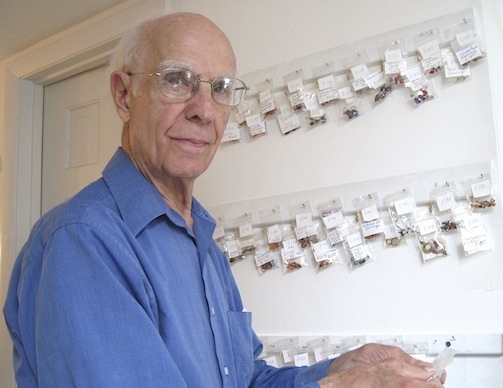 For a long time my husband Joe, who works beside me in the workshop, had been suggesting that we try our hands at jewelry making - probably because, while I had a box full of commercial pieces, none of them really looked like "me."
Then, several years ago, while Joe was recovering from hip replacement surgery, I lived for three weeks in a hotel room in Portland, Maine. When our daughter came to visit from Kansas, she found me bored to distraction and wallowing in self pity. Good girl that she is, she treated me to instant therapy - shopping!
In our adventures we found ourselves in a gorgeous bead shop in Freeport. We were there for hours and went back the next day too. I bought a few gemstones, a bit of beading wire, a handful of crimp tubes, a clasp or two … and never looked back.
I made my first piece of jewelry about an hour after that first trip to the bead shop. At least that's when I started a
necklace
. It took me the better part of a weekend to finish it because I kept making mistakes, messing it up, taking it apart and beginning again.
I learned jewelry making by trial and error, and error, and error. Yes, that means I'm pretty much self taught. I've also learned a lot from books, internet tutorials and other designers I've met online, first in a jewelry making forum and now through the knowledge, generosity and support of my fellow Jets. But mainly, as in other areas of life, I've learned from my mistakes.
And I have the scars, and many jars of scrap copper, to prove it.
When I first started working with wire, I bought a roll of hardware store copper for practice before tackling the more costly sterling silver. Ruined the entire roll. Bought more rolls. Ruined them too. Bought more, and more, and more, until I learned to master that wily stuff.
In the process the strangest thing happened ... I fell in love - with copper. Yes, I enjoy working with sterling too, and gemstones, and other beads, but nothing feels quite so at home in my hands as that simple, humble, warm and forgiving hardware store metal.
Nowadays, we also buy copper by the sheet, for our decorative dishes, cuffs, pendants, bookmarks and Christmas ornaments.
Whether working on a cuff, pendant, dish or tree ornament, I'm always happy when there's a piece of sheet copper on the topsy turvy antique flat iron I call an anvil and my trusty ball peen hammer is in my hand.
My very first sale was on Etsy - to a friend I had met through the jewelry making forum.
She was "priming the pump" so to speak, and I'll be forever grateful for that act of kindness. And I like to think she really did want those earrings!
Living for 24 years on the coast of Maine has had an enormous influence on my imagination and expanded my horizons beyond my wildest dreams. I love the rustic beauty of the woods, the many colors and moods of the ocean, the sparkle of sunlight on snow, the frost feathers on our window panes.
I believe this place has worked its way deep into my subconscious mind, and I'll often jump up first thing in the morning, grab a pencil and paper and doodle out a couple of newly hatched design ideas. And sometimes they make sense.
Although my favorite tool is the above mentioned hammer, I could probably get by without it. What tool could I not part with?
Well, I was going to choose one of those multi tasking gadgets that can do anything and
everything. But then I thought, no, the one I really must have serves a single purpose, doing what nothing else can do: my nylon nose pliers for straightening wire. I have four and would be lost without them.
I recently learned how to make my own 12 gauge head pins, which look more like matches than jewelry findings. New things I want to do are enameling copper and riveting.
These are both high on my list, but the skill I really need to learn is soldering. Not very glamorous but becoming increasingly necessary as Joe and I look forward to expanding our line.
A bit more about us ... Joe and I both enjoy cooking (he bakes all our bread) and gardening, especially growing our own vegetables. And we seem constantly to be renovating our house - room by room, ever a work in progress.
And ... We share our home with a sweet little black kitty named "Dinah the Velvet Petunia" and a 75-gallon tank of tropical fish, all named "Watson."
We have three Etsy shops ...
www.etsy.com/shop/roughmagiccreations
www.etsy.com/shop/roughmagicholidays
www.etsy.com/shop/roughmagicals
Please visit and follow our blog:
RoughMagicCreations.blogspot.com
You can "LIKE" our Facebook page here:
www.facebook.com/RoughMagicCreations.Jewelry
Please follow us on Twitter:
twitter.com/RoughMagicME
And our Pinterest Boards:
pinterest.com/roughmagicshops