Hello! I'm Lisa Alcala, and my Etsy shop is
EmeraldPixie
. I make handcrafted sterling silver, 14K gold and gemstone jewelry.
I became inspired to make jewelry in high school. I could never find jewelry that suited my style, so I would get pieces from thrift stores, take them apart and create new jewelry designs with the components.
The very first piece I created all on my own was out of beads when I was in college. There was a local bead store that allowed people to create
their own pieces. Tried it once and I was hooked on jewelry making.
I learned how to bead on my own. When I moved on to metalsmithing I read books first, then while watching a jewelry making TV show on DIY, I watched master metalsmith Carl Stanley create a stunning cuff bracelet.
I looked him up on the internet and discovered that he teaches workshops at
Farrin O'Connor Design Studios
in Pasadena, Ca. I have learned metalsmithing from wonderful teachers like Carl Stanley, Margo Farrin, and Sue Matz.
My favorite materials to work with are sterling silver, gold and gemstones. Gemstones influence my creative process. Many of my designs are minimalist styles, because I want to show off the stone - not the piece that holds it.
I work my creations around whatever gemstone I am working with, like the
Geometric Cut Blue Topaz in Sterling Silver Ring
pictured on the left. I love setting unusual, freeform gem shapes.
I make
earrings
and
pendants
, but my favorite jewelry items to make are rings. I would make
rings
all day long if allowed.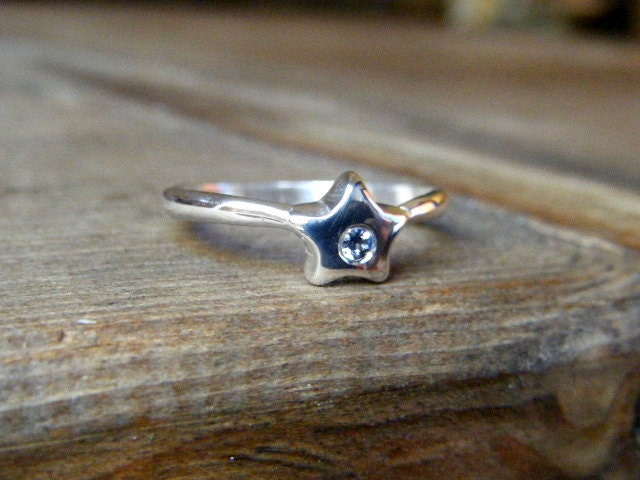 My favorite tool is the flex shaft. It allows me more freedom because it's such a versatile tool. Although, I would have to say that the tool I could not function at all without is my torch.
I recently learned flush setting or gypsy setting gemstones. This method of setting allows me to offer
an entire new range of items like the beautiful
Shooting Star Sapphire and Silver Ring
at right.
I would eventually like to learn the lost wax casting technique.
Please visit my shop on Etsy:
http://www.emeraldpixie.etsy.com
I'm here on Facebook ...
http://
www.facebook.com/emeraldpixiejewelry
And you can follow me on Twitter here:
twitter.com/Emeraldpixjewel