I attended and graduated from the Katherine Gibbs School with an Associate Degree in Fashion Design and Merchandising.
Although my main focus is designing women's apparel, I decided to initiate company business with creating handbags and accessories.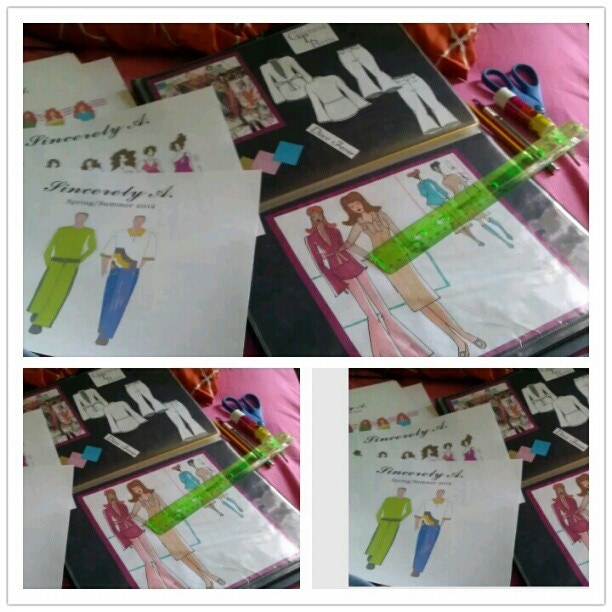 I'm a fashion designer by trade, and designing jewelry just fell into my lap one day.
I mentioned making earrings to my older sister and the next thing I knew she ordered a book for me. I skimmed the book to see what components I needed and that was it. I never really read the book. Ssh... Don't tell my sister!
I'm self taught. After purchasing everything I needed I free styled it. I used to play with beads for hours mixing and matching the colors to create unique combinations.
On the left are one of my early earring designs.
I made my very first piece of jewelry shortly after I graduated college with my degree in Fashion Design and Merchandising in the summer of 2004.
I can't remember the exact color combination but it was a pair of glass beaded earrings. They were simple but cute.
I love making earrings, and I have a huge collection to choose from in my shop. I love big, bold style, like the pair you see below ...
The
Tribal Flowers Wooden Beaded Earrings on the right are fabulous for summer and beach wear! Light but a really nice size, these are so fashionable - and they'll definitely be noticed!
I do have a special love for earrings ...
My father has been a vendor in New York City - Brooklyn to be specific - for more than 30 years.
Shortly after I graduated college, while trying to find my first fashion design job I was working full time with my dad. He convinced me to make a bunch of earrings and sell them at his vendor location. Since they were so simple to make and the beads were so easy for me to get I sold them 1 pair for $3 and 2 pairs for $5.
They were a hit in no time.
So earrings play a big part in the SatinDollCo shop.
And you'll find so many different types.
I love working with natural materials like wood, shell, mother of pearl, and coco pukalet to name just a few.
Our
Trek in the Desert Mother of Pearl Glass and Wood Beaded Dangle Earrings
are just one beautiful example of what I can design by using natural materials.
I'm an earring type of girl. I can't leave the house without a pair on, and I think every woman should wear them everyday too. So my favorite type of jewelry to make hands down is earrings.
But of course I do make other kinds of jewelry ...
Bracelets and Anklets
,
Hair Accessories
and more!
Me being a fashion designer has a huge influence on where and how I get my inspiration.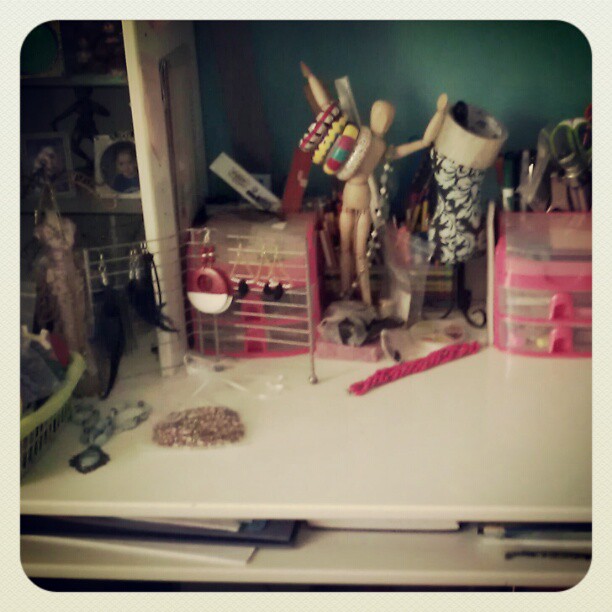 Everything is done by collections. I get inspired by everything; newspaper articles, movies, TV shows, plants, food, lands far away etc.
Normally when inspiration hits I have a sketch book somewhere close and I either write or sketch it down. I'll come back later and do detailed research about the era, culture and etc.
I'll then create a trend board or collage featuring pictures,inspiration, and color. From there I'll sketch my ideas. After that I'll most likely map out the materials I need, then purchase them.
Then each piece comes alive.
My favorite tool would have to be my jewelry pliers. I can't make any piece without them. They are essential to everything I do.
The next jewelry making skill I want to learn is polymer clay. It's cool how something that used to be a lump of clay can be turned into something beautiful.
Square knot jewelry










The latest jewelry making technique I taught myself is the square knot or commonly known as the friendship bracelet technique.
It takes a steady hand and plenty of patience but overall I enjoy the look of the technique.
Find SatinDollCo here:
Etsy:
SatinDollCo.etsy.com
Website:
www.satindoll.biz
Blog:
blog.satindoll.biz
Facebook:
www.facebook.com/SatinDollCo
Twitter:
twitter.com/SatinDollCo
Pinterest:
pinterest.com/SatinDollCo
Instagram:
instagram.com/SatinDollCo